Counselling for an Individual.
Distinctly Private Therapy for an individual's need. Specialised one-to-one personal attention; private counselling for an adult's confidential therapeutic needs…
STOP-PRESS: counselling now available via reliable & confidential Skype / Zoom Video ~ ideal for self-isolation & shielding. Click here for details…
About Individual Counselling.
Sometimes, you just want to talk with someone you trust.
Discussing private matters openly, but in complete confidence, with a highly experienced counsellor such as
Dean Richardson
, can feel refreshing to the soul.
But then once that relief is experienced, deeper subjects can begin to be looked at in counselling. Such a deeper trust can allow you to work through some difficult and personal matters with Dean… until you have no further need of counselling: then you say goodbye.
To a counsellor you don't have to justify yourself, you don't have to feel you're explaining things to someone who just won't "get it" (ever heard of a family member suggesting to someone: "…have you tried not being depressed? Just cheer-up.").
When you're burdened by personal troubles, and friends and family are insufficiently trained to help you work them through, the private counselling services from Dean Richardson MNCS(Accred/Reg) can help you address distress and conflicts.
You don't even need to understand why you're coming into counselling. You and Dean can talk over your instincts and reservations for just the one session, before deciding, together, if continue to meet seems a good idea, or to go your separate ways.
Learning that someone is on your side can be enough to feel that counselling was worth trying.
Individual Counselling Summary.
No Waiting
NHS and charity counselling services often make you wait until the next counsellor is available. Going to a private counsellor, you may often be seen within by next week. Dean also has a limited number of low-fee cases too so you can afford to go private…
Weekly
Effective counselling demands that you attend no more often, and no less often, than weekly. More time than this can leave the counselling ineffective and waste your money. Weekly sessions also help with your budgeting.
Brief or Longer
Private counselling is not limited by time nor number of sessions (NHS may offer you up to 6 maximum). When you need time to talk things through, private counselling is ideal. We can also discuss and agree a set number of sessions too.
Suitable for…
Suitable for an individual who needs to talk over some personal difficulties. You may be puzzled about your behaviour, or in some emotional distress. Individual counselling can help with this.
Private counselling near me serving locations in and around central Havant, Petersfield to Waterlooville, Cosham to Portsmouth & Southsea, Southampton to Chichester, Fareham to Gosport, Hayling Island, Emsworth, Westbourne, Rowland's Castle, local residents anywhere in between and regularly further afield!


Specialist One-to-One Counselling.
As a vastly experienced counsellor, now into his twenty-second year of practice, Dean is able to work with a large number of difficulties that individuals face, from a very wide range of different people.
It's also a relief to know that during the many years of his practice Dean has formed a special-focus in some areas of one-on-one counselling:-
For the More Unusual Types of Personal Difficulties.
Perhaps you've been seeking a counsellor who would work with your particular need from one-on-one counselling.
You hesitated because you didn't find anyone who fitted the bill.
You may find that Dean's proclivity for the more unusual types of personal difficulties would make Dean a good choice when considering individual counselling.
Why not get in contact for free to see?
About Dean @ Havant Counselling.
You could choose any counsellor in and around Havant, 'natch!
Yet, when you think that this may be the most personal, private and vulnerable you're going to be with someone professional, you'd probably choose:
someone you can grow to trust,
someone who demonstrates highly competent skills, ethics and sensitivity.
someone who speaks plain English (rather than psychobabble),
someone who's as happy to use base/swearing language as much (or as little) as you do,
someone who considers himself a frank, no bullshit counsellor, particularly you when you're in need of an authentic response (rather than an "hmm"),
someone who would become an equal part of your therapeutic partnership (e.g. doesn't just sit mostly in silence for 50 minutes).
Does this peak your interest in meeting
Dean @ Havant Counselling
to experience all of this this for real?
Dean Richardson MNCS(Accred / Reg) - a simply private choice.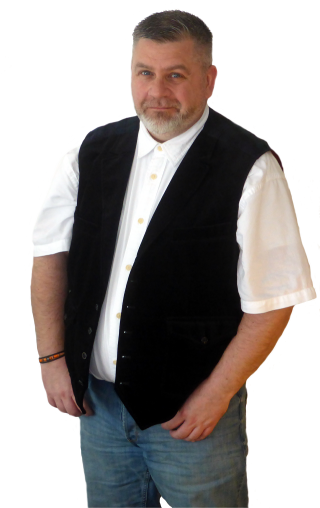 Individual Counselling Fees.
Individual Counselling
Counselling for Personal Needs
Suitable for individuals

Suitable for couples

Suitable for groups

Payable weekly

Available in Havant

Available on Skype/Zoom video

50 minute session

90 minute session (£75)
How Counselling Fees Work.
Unlike NHS services (where you have already paid through NI taxation), private counselling will cost you some money.
Individual Counselling sessions are weekly, and last for a standard 50 minutes (with the option to book 90 minute sessions if you prefer). Although sessions are once a week (except for holidays), you may also attend more than once a week if we both think that this would be helpful.
Our sessions will continue one or both of us thinks that we've done enough; then we'll have a conversation about bringing our counselling work to a close.
Fees are payable on the day of our session.
You may pay your counselling fees online (e.g. by a bank transfer, credit/debit card payment or PayPal) or pay in person (cash, cheque [made out to Dean Richardson], credit/debit card).
Restricted Income: If I have spaces available, a lower fee is negotiable should your income make private counselling a struggle to afford. This is not charity (you still must contribute a fee) and it will involve discussing your income and expenditure with the aim to discover a rate that you can afford responsibly. I do not always have any lower-fee spaces available, so please ask when you first get in contact.
Appointments for Counselling.
Skype & Zoom Video Counselling:
Covid-19 Local or National Lockdowns, Self-Isolating &amp Shielding
(October 2020)
: the balance of risks and rewards continue to argue
against
reopening my practice's Face-to-Face service.
Skype & Zoom services remain uneffected
(click for tele-counselling details…)
.
My Skype/Video appointments are Mondays & Thursdays (~noon to 9pm) and Wednesdays (~noon to 4pm). Having agreed on a weekly session day/time this stays with us until we have completed our work (or there's a need to change).
Choose your Weekly Day & Time.
Sessions times are 50 minutes (by default) or 90 minutes when available.
Video Counselling (Skype, Zoom…)
Monday Appointments:

12

pm

1

pm

2

pm

3

pm

4

pm

5

pm

6

pm

7

pm

8

pm
Tuesday Appointments:
Not available
Wednesday Appointments:

12

pm

1

pm

2

pm

3

pm

4

pm

5

pm

6

pm

7

pm

8

pm
Thursday Appointments:

12

pm

1

pm

2

pm

3

pm

4

pm

5

pm

6

pm

7

pm

8

pm
Friday Appointments:
Not available
Weekend Appointments:
Not available
Video Counselling (Skype, Zoom…)
Visit

HavantCounselling.com

…
Mon:
3pm, 4pm or

6pm

Tue:
Not Available
Wed:
4pm
Thu:
4pm-

6pm

Fri:
Not Available
W/E:
Not Available
Preferred Appointment not available? Register now for free notifications…
Times

in red

are the most popular, and usually the first to go.
Counselling sessions are (at a minimum) weekly, last for 50 minutes, and on the same day and time each week. You may wish to come more than once a week. You may also choose a 90 minute session (by prior arrangement).  Unfortunately I'm unable to support shift-workers.
Our counselling work together continues for as long (or as brief) as we both think it's helpful… and then we'll look at bringing our work to a close.
Fees are due on the day of the session (cash, cheque [made out to Dean Richardson], credit & debit cards).
Ending counselling: it can be helpful to bring up the idea of ending counselling first. Sometimes the need to end may be a mask for something else (avoiding difficult feelings, can't say something, acting out etc) and it can be helpful to distinguish, together, what ending may mean in our work. We'll talk about endings with some thought and some planning on how you might like to say goodbye.
Planned Breaks.
The following table lists the dates of my planned breaks this year (i.e. when I am not available).
Monday 14th December 2020 to Sunday 3rd January 2021 (21 days).
Got a Question? Don't Hold Back…
Got a question about Dean Richardson's counselling services in Havant (Hampshire)? Want to make contact, maybe asking about a first appointment? Send Dean a message any time…