Havant Open Relationship Counselling.
Private Counselling for when an Adult's Couple Open Relationship is experiencing difficulties.
STOP-PRESS: counselling now available via reliable & confidential Skype / Zoom Video ~ ideal for self-isolation & shielding. Click here for details…
About Open Relationship Couple Counselling.
For when couples in Open Arrangements need Counselling Support too.
You may have searched Google for couple counselling hoping to find a counsellor who will work with a couple with an
open relationship
.
When looking at the counsellor's website, you may have been left wondering if if they do… or not…!
Open Relationship Couple Counselling from Dean Richardson MNCS(Accredited Registrant) would be the service you'd consider when your open relationship is in difficulties.
An effective therapeutic service, for two adults, that shows couples-in-open-conflict how to develop their own, unique, approach to resolving relationship problems… with no further need of counselling in the future!
A Therapy Service for Open Relationships.
Begin Now
No need to wait. Very often Dean is able to meet with the both of you in around a week of making first contact. As a private counsellor he often has sessions available straight away.
Non Prescriptive
A difficulty nontraditional relationships may have with some counsellors, is finding a counsellor who accepts the relationship without judgement. Dean's approach works with pretty much any form of adult couple relationship!
Unlimited Sessions
Your relationship is not limited by a set amount of time, so neither is open relationship couple counselling. We'll work to deliver just enough sessions for your relationship to make the counsellor redundant. Then you can go it alone… together.
Suitable for…
Suitable for any adult open relationship couple (married, intimate, living together, straight, gay, lesbian, MOM). Whether open by arrangement, or open by accidental discovery, Dean will help you both to identify what's getting in the way of you working out problems together.
Private counselling near me serving locations in and around central Havant, Petersfield to Waterlooville, Cosham to Portsmouth & Southsea, Southampton to Chichester, Fareham to Gosport, Hayling Island, Emsworth, Westbourne, Rowland's Castle, local residents anywhere in between and regularly further afield!


A Non-Normative Approach to Open Relationship Counselling.
Dean Richardson MNCS(Accredited Registrant) is a fully qualified and experienced couple relationship counsellor.
He employs effective couple-therapy theoretical frameworks that have been around and developed since the 1970s.
Such an integrated approach works for non-traditional couple relationships (such as open relationships) because:
(a) the approach doesn't attempt to prescribe what the couple should be doing and
(b) the approach doesn't refer to "What a normal couple in this situation would do is…"
In this way, open relationship counselling focuses on the couple's own relationship (not someone else's belief about how a successful relationship ought to be).
Dean's approach to open relationship couple counselling employes two main therapeutic approaches:-
Systemic (Family/Milan Associates) – an approach that sees relationships as a system (think: computer, or washing machine). A system has processes (behaviours that make us love our partner), and triggers (things that kick off an argument). By discovering what a marital system the couple has (unknowingly) created together, the couple and Dean can begin making changes that affect and improve the whole marriage,
Psychodynamic – an approach that recognises unconscious processes. Such processes might be past experiences being replayed in the marriage (eg early childhood abuse), or poor parental relationships. Transference is a phenomenon where we respond to a person as if they were someone from our past. This can leave the other person confused and not understanding what role he/she has found themselves in. Whilst these experiences can introduce poor experiences into the marriage, by working together the couple and Dean can discover how to resolve the conflicts and… finally… put them to rest.
These two extraordinarily powerful approaches require no traditional form of couple relationship at all!
My Distinct Approach to Couple Counselling.
I've included much more detail about my distinct and effective approach to couple counselling on my main couple counselling page. It's worth a read if you're interested in what couple work we could be doing together
About Dean @ Havant Counselling.
You could choose any counsellor in and around Havant, 'natch!
Yet, when you think that this may be the most personal, private and vulnerable you're going to be with someone professional, you'd probably choose:
someone you can grow to trust,
someone who demonstrates highly competent skills, ethics and sensitivity.
someone who speaks plain English (rather than psychobabble),
someone who's as happy to use base/swearing language as much (or as little) as you do,
someone who considers himself a frank, no bullshit counsellor, particularly you when you're in need of an authentic response (rather than an "hmm"),
someone who would become an equal part of your therapeutic partnership (e.g. doesn't just sit mostly in silence for 50 minutes).
Does this peak your interest in meeting
Dean @ Havant Counselling
to experience all of this this for real?
Dean Richardson MNCS(Accred / Reg) - a simply private choice.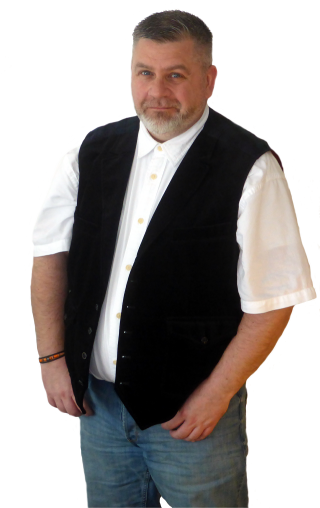 Couple Counselling
Counselling for an Adult Relationship
Suitable for individuals

Suitable for couples

Suitable for groups

Payable weekly

Available in Havant

Available Skype/Zoom video

50 minute session

90 minute session (£100)
How Counselling Fees Work.
Unlike NHS services (where you have already paid through NI taxation), private counselling will cost you some money.
Couple Counselling sessions are weekly, and last for a standard 50 minutes (with the option to book 90 minute sessions if you both prefer). Although sessions are once a week (except for holidays), you may also attend more than once a week if all three of us think that this would be helpful.
Our sessions will continue one or more of us thinks that we've done enough; then we'll have a conversation about bringing our counselling work to a close.
Fees are payable on the day of our session.
You may pay your counselling fees online (e.g. by a bank transfer, credit/debit card payment or PayPal) or pay in person (cash, cheque [made out to Dean Richardson], credit/debit card).
Restricted Income: If I have spaces available, a lower fee is negotiable should your income make private counselling a struggle to afford. This is not charity (you still must contribute a fee) and it will involve discussing your income and expenditure with the aim to discover a rate that you can afford responsibly. I do not always have any lower-fee spaces available, so please ask when you first get in contact.
Appointments for Counselling.
Skype & Zoom Video Counselling:
Covid-19 Local or National Lockdowns, Self-Isolating &amp Shielding
(October 2020)
: the balance of risks and rewards continue to argue
against
reopening my practice's Face-to-Face service.
Skype & Zoom services remain uneffected
(click for tele-counselling details…)
.
My Skype/Video appointments are Mondays & Thursdays (~noon to 9pm) and Wednesdays (~noon to 4pm). Having agreed on a weekly session day/time this stays with us until we have completed our work (or there's a need to change).
Choose your Weekly Day & Time.
Sessions times are 50 minutes (by default) or 90 minutes when available.
Video Counselling (Skype, Zoom…)
Monday Appointments:

12

pm

1

pm

2

pm

3

pm

4

pm

5

pm

6

pm

7

pm

8

pm
Tuesday Appointments:
Not available
Wednesday Appointments:

12

pm

1

pm

2

pm

3

pm

4

pm

5

pm

6

pm

7

pm

8

pm
Thursday Appointments:

12

pm

1

pm

2

pm

3

pm

4

pm

5

pm

6

pm

7

pm

8

pm
Friday Appointments:
Not available
Weekend Appointments:
Not available
Video Counselling (Skype, Zoom…)
Visit

HavantCounselling.com

…
Mon:
3pm, 4pm or

6pm

Tue:
Not Available
Wed:
4pm
Thu:
4pm-

6pm

Fri:
Not Available
W/E:
Not Available
Preferred Appointment not available? Register now for free notifications…
Times

in red

are the most popular, and usually the first to go.
Counselling sessions are (at a minimum) weekly, last for 50 minutes, and on the same day and time each week. You may wish to come more than once a week. You may also choose a 90 minute session (by prior arrangement).  Unfortunately I'm unable to support shift-workers.
Our counselling work together continues for as long (or as brief) as we both think it's helpful… and then we'll look at bringing our work to a close.
Fees are due on the day of the session (cash, cheque [made out to Dean Richardson], credit & debit cards).
Ending counselling: it can be helpful to bring up the idea of ending counselling first. Sometimes the need to end may be a mask for something else (avoiding difficult feelings, can't say something, acting out etc) and it can be helpful to distinguish, together, what ending may mean in our work. We'll talk about endings with some thought and some planning on how you might like to say goodbye.
Planned Breaks.
The following table lists the dates of my planned breaks this year (i.e. when I am not available).
Monday 14th December 2020 to Sunday 3rd January 2021 (21 days).
Got a Question? Don't Hold Back…
Got a question about Dean Richardson's counselling services in Havant (Hampshire)? Want to make contact, maybe asking about a first appointment? Send Dean a message any time…