Appointments for Havant Private Counselling.
Being a Private Counselling practice you get to choose your preferred day and time for your weekly counselling appointment. You can always change your mind later, but if you prefer your appointment can stay with you until you complete your therapy.
STOP-PRESS: counselling continues to be available via reliable & confidential Skype / Zoom Video ~ ideal for self-isolation & shielding. Click here for details…
Appointments for Counselling.
Skype / Zoom Video Counselling
: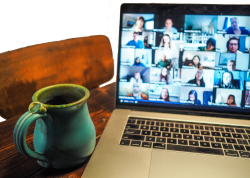 Covid-19 Tiers, National Lockdown, Self-Isolating &amp Shielding
(January 2021)
: the balance of risks and rewards continue to argue
against
reopening my practice's
Face-to-Face
service.
Skype / Zoom Video Counselling Services
continue uneffected, however
(click for Video Services @ Havant Counselling details)
.
My Skype/Video appointments are Mondays & Thursdays (~noon to 9pm) and Wednesdays (~noon to 4pm). Having agreed on a weekly session day/time this stays with us until we have completed our work (or there's a need to change).
Decide on your preferred Weekly Day & Time.
Refer to the table (below) when you make Contact with Dean. It shows the weekly appointments that are currently available.
Weekly session lengths are 50 minutes (by default) but can also be of up to 90 minutes when you prefer.
Video Counselling (Skype, Zoom…)
Monday Appointments:

12

pm

1

pm

2

pm

3

pm

4

pm

5

pm

6

pm

7

pm

8

pm

9

pm
Tuesday Appointments:
Not available
Wednesday Appointments:

12

pm

1

pm

2

pm

3

pm

4

pm

5

pm

6

pm

7

pm

8

pm

9

pm
Thursday Appointments:
Waiting list (contact me to discuss)
Friday Appointments:
Not available
Weekend Appointments:
Not available
Book your preferred appointment(s) by completing my Contact me for Counselling form…
​
Is your preferred appointment not available? Register now for free notifications…
Times

shown in red

are regularly the first to be booked.
Counselling sessions are (at a minimum) weekly, last for 50 minutes, and on the same day and time each week. 
There are options for you to meet with your counsellor more than once a week.
There are options for you to choose 90 minute sessions too. 
(Unfortunately my regular-counselling-sessions approach does not accommodate shift-workers very well).
Our counselling work together continues for as long (or as brief) as we both think it's helpful… and then we'll look at bringing our work to a close.
Fees are due on the day of the session (payable online via card or bank transfer, in person using cash, credit & debit cards or cheque [made out to Dean Richardson]).
Ending counselling: it can be helpful to bring up the idea of ending counselling first. Sometimes the need to end may be a mask for something else (avoiding difficult feelings, can't say something, acting out etc) and it can be helpful to distinguish, together, what ending may mean in our work. We'll talk about endings with some thought and some planning on how you might like to say goodbye.
Planned Breaks.
The following table lists the dates of my planned breaks this year (i.e. when I am not available).
Monday 15th February 2021 to Sunday 21st February 2021 (7 days).
Friday 2nd April 2021 to Sunday 11th April 2021 (10 days).
Monday 3rd May 2021 to Sunday 9th May 2021 (7 days).
Monday 31st May 2021 (Dean will be unavailable on Spring bank holiday (31 May)).
Monday 5th July 2021 to Sunday 25th July 2021 (21 days).
Monday 30th August 2021 to Sunday 5th September 2021 (7 days).
Monday 18th October 2021 to Sunday 24th October 2021 (7 days).
Monday 13th December 2021 to Sunday 2nd January 2022 (21 days).
Got a Question? Don't Hold Back…
Got a question about Dean Richardson's counselling services in Havant (Hampshire)? Want to make contact, maybe asking about a first appointment? Send Dean a message any time…